Joelle Bitar Renowned Real Estate Broker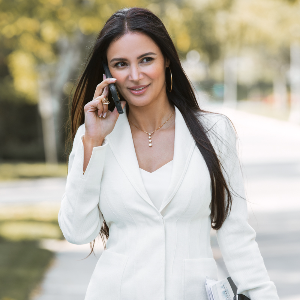 Joelle Bitar is a woman of many talents. A chartered real estate broker and agent of the Collège de l'immobilier du Québec, she also holds a degree in real estate law and taxation. With more than ten years of experience, Joelle is quickly establishing her reputation as an outstanding (and award-winning!) saleswoman in the Montreal market as the #1 RE/MAX Action team in 2019, 2020, 2021, and 2022. 
While female realtors make up over 60% of the Canadian real estate industry, Joelle stands out as an exception, combining leadership and expertise into her repertoire. As the president and chartered real estate broker of Team Joelle Bitar, she's averaging over $165 million in annual volume in Montreal and beyond. 
Specializing in "home staging" and real estate negotiation, she is a member of the Organisme d'autoréglementation du Courtage Immobilier du Québec (OACIQ) and the Greater Montreal Real Estate Board (CIGM). 
As the leader of an elite team at RE/MAX ACTION, Joelle assists clients with buying and selling homes throughout Montreal and its surrounding areas. Fluent in French, English, Arabic, and Spanish, she can communicate with a wide range of clients and help them find precisely what they are looking for. 
In short, she is a powerhouse in the Canadian real estate industry.
RE/MAX Action #1 team in 2019, 2020, 2021, and 2022

Ranked top 100 in Canada in 2020, 2021, and 2022

Member of the RE/MAX Quebec Diamond Club in 2019, 2020, 2021, and 2022

Member of the RE/MAX Hall of Fame
DEDICATED TO HER CRAFT
"Our experience selling with Team Joelle Bitar has been very successful, and I would highly recommend working with her. She came prepared with a comprehensive strategy for exposure and selling, and her team was highly responsive and helpful throughout the process, which gave a great sense of reassurance. The condo was sold in a very short period, and we were very happy with the outcome." – Khaled & Maya
"Due to the size of our team, we're able to consistently provide the best service possible to our clients," she explained to Top Agent Magazine. "We truly enjoy what we do; because of that, we're here for our buyers and sellers, seven days a week."
Joelle's practical and meticulous approach to home staging and real estate negotiations means she can offer buyers more than one option for their property. She understands the importance of preparation, which is why Joelle starts by helping her clients prepare their homes so they're appealing from every angle before launching into marketing campaigns like digital or social media ads, print publications, and billboards.
"I love the process of negotiating a transaction to my client's advantage," she says. "Whether we're juggling multiple offers, or even one, I know how to put them in the driver's seat and truly maximize their value in the marketplace."
When it comes to purchasing a home, Joelle is just as hands-on, making dream home buying a reality. Her team also has access to all types of resources due in part to their synergistic approach to assisting their clients every step of the way. 
When finding a home or selling property in or around the Montreal area, no one is more qualified than Joelle Bitar. With years of experience and an extensive network of satisfied clients, she can help you find exactly what you are looking for – no matter your needs. So if you're ready to search for the perfect home or property in Montreal, don't hesitate to contact Joelle today!
To contact Joelle, her email, phone number, and social media accounts can be easily found on her website here.